2016 Business and Financial Summary
 Income
During 2016 St Vincent's Foundation received €504,441 between fundraising proceeds, donations and other minor sources. This was an increase of 4% on 2015.   The chart below demonstrates the full breakdown of funds received.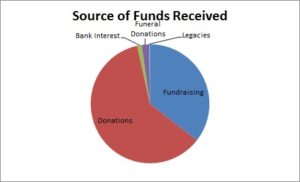 The sums received increased over the course of the year with just €130,745 of the total income coming in the first half of the year with €374,000 received in the second half.
€462,574 of funds received were restricted to specific causes with just €35,673 unrestricted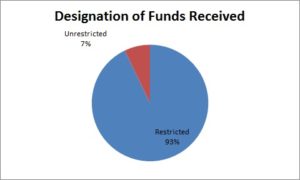 Individual details of all receipts are shown on the website
Grants
During the year we made grant disbursements of €271,300. The majority (€253,930) being spent on vital medical research with the remaining €17,300 used for purchase of equipment for patient care and comfort. The latter figure was counter-balanced by a repayment of spend in earlier years of c€21,000 so the net position was a credit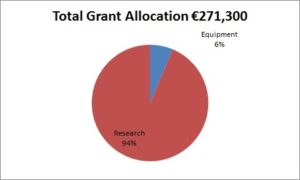 All Grants are shown separately on our website
Expenses
St Vincent's Foundation continues to operate on a voluntary basis. Costs therefore amounted to just €21,760. Principal expenses are fees for accounting, legal and insurance, website development and maintenance  and production of twice-yearly donor's magazine which in total cost c€10,000. Travel costs, call-centre payments, commission payments for online donations and depreciation made up the balance. The slight cost increase is attributed mainly to higher depreciation as we created a new website.
The full details of the 2016 Accounts are available below.
2015-svf-final-signed-accounts-2015