2018 Business and Financial Summary
Income
During 2018 St. Vincent's Foundation received €515,547. These come from donations, bequests, fundraising events, donations in lieu of funeral flowers and other minor sources. This was a decrease of 35% on 2017.  The chart below demonstrates the full breakdown of funds received.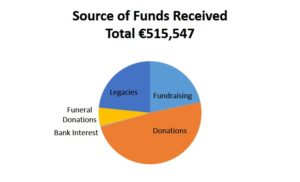 The first half of the year generated €256,598 of the total income with €258,949 received in the second half.
Total income for the year was down 36% compared to 2017. However 2017 contained a number of exceptional donations and legacies. The average funds received each year is just under €500,000 so we are very pleased with the outcome for 2018. Fundraising by a wide range of supporters and events continued to be very important as well as the very generous decision by many bereaved families to request donations to St Vincent's in lieu of funeral flowers.
Reclaims of taxation on donations are included in the overall donation figure.
€487,215 of funds received were restricted to specific causes with just €25,332 unrestricted.
Individual details of all receipts are shown on the website
Grants
During the year we made grant disbursements of €461,614. €124,892 of total grants was provided to support the acquisition of Medical and Surgical equipment. €257,977 was contributed to Research projects and €66,024 to patient support.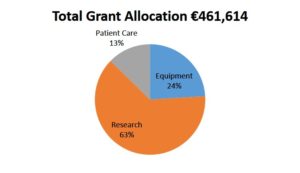 All Grants are shown separately on our website
Expenses
St Vincent's Foundation continues to operate on a voluntary basis with no salaries or wages. Costs therefore amounted to just €12,721 (2017 €19,753). Principal expenses are fees for accounting, legal and insurance, website hosting and maintenance and production of our twice-yearly donor's magazine Friends of St Vincent's. Travel costs, telephone costs, commission payments to EverydayHero for online donations, depreciation and financial charges made up the balance.
 2018 accounts available here.