2020 Business and Financial Summary
By any standards, 2020 was an extraordinary year. The demands on everyone were immense and nowhere more than in our healthcare system. We saw how care-givers in all roles rose to that challenge
What was equally amazing was the response from the public in making donations and organising fundraising events to help the hospital to cope with the response to Covid-19. Both fundraising and donations were at an all-time high. With a total received of over €1.6M, it was three times what we would normally expect to receive.
We can only express our sincere thanks to everyone who supported and to assure them that their contribution saved lives.
As usual we depict below where funds came from and how they were spent.
INCOME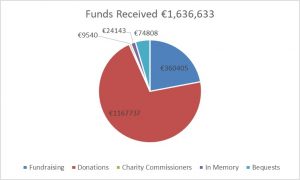 Not surprising, given the focus on fighting Covid-19 the majority of funds received were restricted to particular medical specialities mostly, but not exclusively to the response to the Covid virus.
In excess of €1.5M was dedicated to the capacity to deal with Covid-19 and marginally less than €100K was unrestricted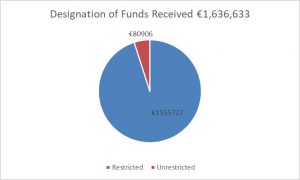 As usual all funds received are individually on the website under TRANSPARENCY
GRANTS
Enabled by the funds contributed, we were able to support projects in the hospital with more than €900k during the year in the areas of Medical equipment, Research and Education and patients support. Some of the funds received will be deployed during 2021 and beyond. All will be to the benefit of our patients.
All grants are also shown on our website under TRANSPARENCY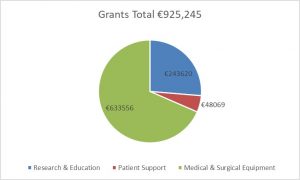 EXPENSES
St. Vincent's Foundation continues to operate on a voluntary basis with no salaries or wages. Costs therefore amounted to just €10,835 (2020 €19,935). The reduction in costs of 47% is due to the timing of some bills between different years and also represents a reduction in activity due to Covid-19 restrictions. Principal expenses are fees for accounting, legal and insurance, website hosting and maintenance. Travel costs, telephone costs, commission payments to the online platforms for online donations, depreciation and financial charges made up the balance.
Production of our twice-yearly donor's magazine Friends of St. Vincent's was suspended for 2020 and this also reduced printing costs.  However we will resume this important communication as soon as conditions allow,
Full details of the 2020 accounts are available at the link below.
2019 SVF accounts file