Projects Supported By Donors
We regularly feature wonderful stories of fundraising for the hospital. Here we feature more examples of the many projects that have been made possible by this fundraising and by donations of all kinds, as well as the practical impact that donors and fundraisers have had on patient care in St. Vincent's Hospital. 
The list is, by no means exhaustive, but does demonstrate how important donors and fundraisers are to the wellbeing of our patients. Broadly the investments are across medical research, medical education and equipment, as well as investments in patient and family comforts, and equipment.
We don't generally highlight the donors who enabled these projects because many of them are made up of several smaller donations and many of our contributors wish to remain anonymous. Here are just some of the successes.
Specialist Chairs for the Liver Unit;
Enabled by generous donations and fundraising we were able to purchase specialist chairs for St. Brigid's Ward.  A Regency electric chair was purchased in early 2020. This chair will mean that higher dependency patients will be able to sit out; a significant contribution to their care and recovery. In September 2020, a specialist Perry chair was purchased to assist patients with mobility issues. These chairs are a major contribution to patient care and comfort in our Liver Unit and we are most grateful to the donors involved.
Tiernan Family Support for Patients:
​Dr. Eoin Tiernan heads Palliative Care in St Vincent's and this role led to a great contribution to the barriers facing patients and their families in the Covid-19 environment.
Having experienced the challenges faced by patients requiring isolation in St. Vincent's because of Covid 19, Dr. Tiernan shared the challenge with his family. The response was immediate. His wife, Sandra, and his children immediately sought support for supplying iPads and other communication devices, so that patients could communicate with their loved ones, often in the most difficult of circumstances.
The scale of the response was such that they were able to extend the support way beyond the hospital to residents in nursing homes and elsewhere. So far, they have received over 140 iPads. The need is very great and more support would be very welcome.
Televisions in Wards:
It may seem very ordinary but for patients, particularly those who have a longer stay in hospital, access to a working television is a major contribution to their comfort. Because of the help given to St Vincent's
Foundation we have been able to install televisions in many wards at a total cost of c.€24,000 per ward. We will continue to support this and we thank those who enabled us to do so.
Equipment purchased for Cystic Fibrosis Patient care:
A grant from St Vincent's Foundation enabled the C.F. Unit in the hospital to purchase a Vest Airway Clearance System. Physiotherapist, Ronan Buckley explains below the patient benefits from this equipment.
 "Cystic Fibrosis (CF) is a multi-organ disease, mainly effecting the lungs and digestive system. It is caused by a defective gene that results in the production of thick and sticky mucus. People with C.F. perform physiotherapy based airway clearance breathing exercises to clear this mucus from the lungs on a daily basis. In varying circumstances, people may not be able to actively participate in this airway clearance in their usual way. In these scenarios, The Vest Airway Clearance System offers an alternative method. It is a garment, like a life jacket, which provides vibrations to the chest wall to dislodge mucus from the lungs. St. Vincent's Foundation has provided funding to the C.F. Physiotherapy Team at The National Referral Centre for Adult Cystic Fibrosis here in St. Vincent's University Hospital to purchase the Vest. The whole C.F. team feel this will assist them in their goal of providing the highest quality of care to those attending the centre."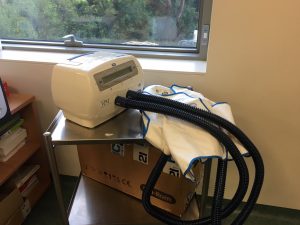 Donor support for C.F.:
As the National Centre for Adult Cystic Fibrosis in Ireland, we continue to enhance our capability in this area because of the generosity of donors that we highlight so often in these pages.  To improve efficiency and response to patients needs we invested in communications technology for the ward area.
For patient comfort, we purchased state-of-the-art Dyson Fans for St. Christopher's C.F. Ward. These are particularly important as patients with C.F. often have to isolate in their own rooms, even in warm weather.
As part of ongoing research into C.F., we supported the unit in the acquisition of monitoring equipment to determine the effect of exercise on symptoms and well-being. This work goes on.
Similarly we grant aided a joint UCD/St. Vincent's research study in Cystic Fibrosis under Prof. Ed McKone.  Prof. McKone outlines "We are very grateful to St. Vincent's Foundation for supporting work we are doing in collaboration with C.F. Centres in Seattle and Iowa, looking at the impact of new C.F. drugs and how they are improving quality of life and need for hospitalisation in our C.F. patients"
Obesity Research:
St. Vincent's Foundation, through Prof Donal O'Shea provided a grant for a joint research programme with Maynooth University which will benefit patients over time. The work is best described by Prof. Donal O'Shea as follows:
"Between 2020 & 2021, the Obesity Immunology Research Group (OIRG) at Maynooth University received two very generous donations from St. Vincent's Foundation to help support their research programme. These donations,
totalling €115,000 were funded by a generous gift from an anonymous donor, and have helped the OIRG investigate the impact of obesity on SARS-CoV-2 vaccine efficacy.
With other viral pandemics, like H1N1 influenza, people with obesity (PWO) were more severely impacted, and had reduced protection after vaccination. We set about asking if the same was true for SARS-CoV-2, and early results indicate that PWO may have comparable vaccine responses, and although these results need to be confirmed, this represents positive news for those living with obesity".
Frailty Car initiative:
St. Vincent's Foundation is delighted to support the purchase, in partnership with St. Vincent's University Hospital, of a specialist vehicle for delivery of patient care for the EDITH (Emergency Department in the Home) service.
The initiative, to shift care from Emergency Department (ED) to a team travelling to patients' homes, follows a trial period from early 2020 and is now firmly established as an effective way of treating patients. The suitable cohort of patients include those suffering dehydration, falls, pain and orthostatic hypotension. The visiting team will typically be an ED doctor, Occupational Health staff and an Advanced Paramedic. Karen Donohoe, Business & Operations Manager, SVUH summarises the effectiveness of the project:
"…The Team see, review and treat an average of 10 patients/day and to date approx. 91% of this group have been able to have their complete episode of care provided in their home.  Of the 9% who required conveyance to Hospital some of these required attendance for diagnostics only and were able to go home immediately afterwards and did not require overnight admission. To date, almost 3,000 patients have benefited from this service, which has been a resounding success and a positive innovation for the patients, the staff and the hospital as a whole of which we are very proud…"
 Since then this initiative has been recognised nationally for an Ireland East Healthcare Innovation Award and a HSE Excellence Award. Congratulations to all the team involved.  This project wouldn't have been possible without donor support.
 Scalp Cooling:
Owing to the success of the original installation there has been an increased demand from patients for access to the system while undergoing Chemotherapy. St Vincent's Foundation funded the equipment at the start and is pleased to finance the expansion as well as cover the costs of elements that have to be replaced over time.
Investment in Intensive Care:
The Intensive Care Unit in St. Vincent's capacity has been boosted by the appointment of additional staff for the area. This investment is optimised by sponsoring staff members to undertake the Post-Graduate qualification in Intensive Care. The cost for each participant is c.€8,000 and St. Vincent's Foundation is proud to have financed much of the cost. The impact for future patients will be highly beneficial.
Additional iPad support for ICU:
Based on the success of an earlier investment on adapting iPads for patient use in the Intensive Care Unit, we were able to add to the access there. I.C.U. presents particular challenges for patient's use of technology and the specialist engineering staff there were able to custom-design the units to great effect. We were delighted to provide the finance for this.
Urology Support:
We financed the purchase of an Ultrasound Probe. This is of primary benefit in treating patients with kidney cancer. It enhances the capacity of the Robotic Surgery system which St. Vincent's Foundation enabled some years ago and which has been most successful.
 Endoscopy Discharge Lounge:
We were delighted to finance the refurbishment of the Endoscopy Discharge Lounge in the hospital. This has made a huge difference to the comfort and dignity of patients in this medical area. Previously the environment was unsuitable for what was required.
Stroke Unit equipment purchase: 
Through the generosity of a kind bequest to St. Vincent's Stroke Unit, we were able to purchase a Cortrak machine for the Unit. The benefits of the Cortrak machine are summarised by Imelda Noone, Clinical Nurse Specialist in the Stroke Unit: "Each year approx 120 stroke patients are admitted to St. Vincent's with a swallowing problem and require an NG tube for essential feeding. The Cortrak machine is a real time computerised system that ensures that the tube is correctly placed at all times avoiding the need for XRay. It allows earlier commencement of feeding. The impacts on safety and patient care are immense"
Covid-specific support:
We have mentioned earlier that the response to the hospital need for help in battling Covid-19 was phenomenal. Apart from the enabled purchases we have outlined above, we have also financed to a total cost of €643,000 the following:
¨ Full ventilator system including carts and Restrainers
¨ Line Stacks and pumps
¨ Patient monitors
¨ Nine Philips Monitors
¨ A Magna Pure ICU system
We spent a further €100,000 on:
¨ Additional specialist training for nurses in the Intensive Care Unit
¨ Covid-19 related research projects
These were enabled by the many, many donations and fundraising events for Covid-19 care and we were particularly fortunate to receive two very large donations where the donors asked for anonymity.
Staff Wellness Booklet:
The challenges of Covid-19 demonstrated starkly that frontline staff are themselves vulnerable to adverse impacts on their own health. As part of an overall staff protection and wellness programme, St. Vincent's Foundation were pleased to repeat the financing of supporting materials for this.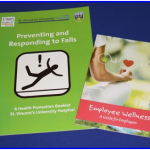 Guides for patients and staff:
Donated funds enabled the production of a range of booklets and guides for patients and staff. They covered topics from preventing falls to wellness support for staff.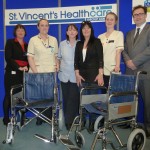 Wheelchairs for St Christopher's Ward (C.F. Unit):
Having had family members in St. Christopher's over lengthy periods, one family saw that the environment could be improved by having more wheelchairs available. Having raised funds they enabled us to buy three additional chairs.
Research into early diagnosis of Pancreatic Cancer:
Like so many other medical conditions, the treatment of   Pancreatic Cancer is much more effective if recognised early. A current project sponsored by the fundraising of one family has financed this work.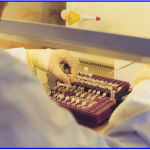 Joint research with Trinity College into multi-generational Breast Cancer:
This is potentially a very exciting project in collaboration with The Smurfit Institute of Genetics in TCD. The participation of St. Vincent's is financed by a number of donors including one major donor who has stipulated that they remain anonymous.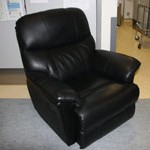 Reclining chairs for C.F. patient rooms:
Many family members spend long periods including overnights at the bedside of patients. The purchase of these reclining chairs greatly improves the comfort of users and we are grateful to those who made it possible.
Liver Research:
As St. Vincent's is the National Liver Transplant Centre, the commitment to research is vital. The generosity of donors has allowed us to engage in comprehensive research activity year on year and this is ongoing.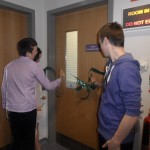 Medical Education:
Each year we are able to support staff in developing their capacity to care for patients by attending at courses or specialised conferences. Sometime this is from specific grants from sponsors and in many cases from patient and family supporters.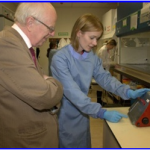 Laboratory equipment for E.R.C.:
Donated money enabled purchase of vital equipment for the laboratories in the Education & Research Centre (E.R.C.) improving our research capabilities.
In summary, these are just examples of the many enhancements to patient care, research and education that have been made possible by the generosity of those hundreds of people who have donated or raised money for St. Vincent's.
Since January 2014, we highlight, on our website under GRANTS, each project supported.