Projects Supported By Donors
We regularly feature wonderful stories of fundraising for the hospital. Here we feature more examples of the many projects that have been made possible by this fundraising and by donations of all kinds.
The list is, by no means exhaustive, but does demonstrate how important donors and fundraisers are to the wellbeing of our patients. Broadly the investments are across medical research, medical education and equipment.
We don't generally highlight the donors who enabled these projects because many of them are made up of several smaller donations and many of our contributors wish to remain anonymous. Here are just some of the successes.
Donors provide Internet access in St. Vincent's
Enabled by donors St. Vincent's Foundation financed a new system to provide internet access in patient areas throughout St. Vincent's University Hospital. At a cost of just over €70,000 this is a great enhancement for patients and their families to be able to access mail and the web freely from many devices while in hospital. It also accommodates care providers to access critical information in the hospital.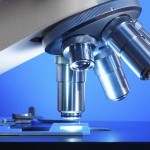 Research project on Clostridium difficile
This project in the Department of Microbiology in St. Vincent's Hospital commenced in 2011 with an expectation that it would run for 3 or 4 years and is ongoing. It was made possible by a multi-year grant from the Freemasons of Ireland Medical Research Fund. The project aims to type the different strains ("ribotypes") of C.difficile which are causing disease in Ireland at present and correlate the ribotypes with information about the patients who are suffering from C. difficile disease.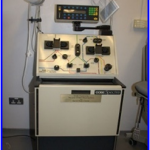 Leucapheresis Stem-cell machine and treatment chair for Haematology patients
The family of two Haematology patients recognised an opportunity to vastly improve treatment in this area by the purchase of more modern equipment and raised all the funds required to enable it to happen. The improvement was rounded off by adding a personal TV and customised chair so that patients could have some relief from the boredom of having to remain attached to the machine for some hours.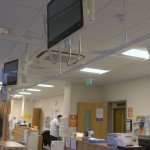 TV & Internet Services in St. Anne's Daycare Centre
Many of our patients attend regularly as day patients for oncology treatment whichnecessitates them remaining in a treatment bay within St. Anne's. We installed individual ceiling mounted screens that allow personal access to TV programmes or internet. It greatly eases the tedium of this treatment.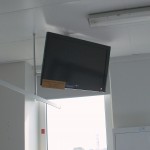 TV's for St Brigid's Ward (Liver Unit)
Many of the patients in St. Brigid's Ward spend many weeks or months in the hospital. The T.V.'s in the ward were shared between a number of beds. Because of donor support for Liver care, we were able to install individual televisions for each bed. This is a comfort for the users and contributes to better outcomes for them.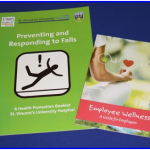 Guides for patients and staff
Donated funds enabled the production of a range of booklets and guides for patients and staff. They covered topics from preventing falls to wellness support for staff.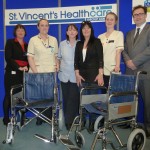 Wheelchairs for St Christopher's Ward (C.F. Unit)
Having had family members in St. Christopher's over lengthy periods, one family saw that the environment could be improved by having more wheelchairs available. Having raised funds they enabled us to buy three additional chairs.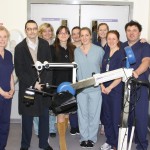 Exercise bike for I.C.U.
This highly specialised equipment allows patients in Intensive Care to help their recovery by appropriate exercise while confined to bed. It was financed by the family of a patient who made a great recovery in the hospital.
Research into early diagnosis of Pancreatic Cancer
Like so many other medical conditions, the treatment of   Pancreatic Cancer is much more effective if recognised early. A current project sponsored by the fundraising of one family has financed this work.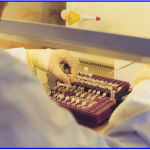 Joint research with Trinity College into multi-generational Breast Cancer
This is potentially a very exciting project in collaboration with The Smurfit Institute of Genetics in TCD. The participation of St. Vincent's is financed by a number of donors including one major donor who has stipulated that they remain anonymous.
Shower and toilet facilities in Coronary Care Unit
The environment for patients in this area was much improved by upgrading and adding new showers and toilets. It had the added advantage of bringing the facilities closer to the patients using them.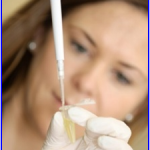 Obesity Research Group
Funds provided by a donor, who wishes to remain anonymous, as well as contributions from the Health Research Board, the National Children's Research Centre and Industry supporters, enabled this key study of the health consequences of obesity, with the objective of improving patient care.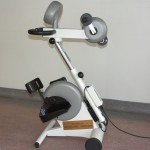 Exercise Bike in St. Brigid's (Liver Unit)
We obtained this specialised piece of equipment for St. Brigid's Ward with money raised for the purchase. It really helps patients there as it allows them exercise within the ward area.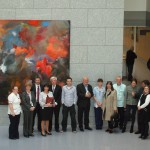 Gemma Billington Painting
Normally we are highlighting supporters making a difference by donating funds or fundraising. Recently, however, we were gifted a magnificent painting for the Clinic area in St. Vincent's. David and Annette Crowley, whose son Darragh is patient in the C.F. unit in the hospital, commissioned Gemma Billington and the impressive piece is now on display on the first floor of the Clinical Services Building. We are grateful for this wonderful addition to the patient environment.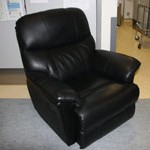 Reclining chairs for C.F. patient rooms
Many family members spend long periods including overnights at the bedside of patients. The purchase of these reclining chairs greatly improves the comfort of users and we are grateful to those who made it possible.
Liver Research
As St. Vincent's is the National Liver Transplant Centre, the commitment to research is vital. The generosity of donors has allowed us to engage in comprehensive research activity year on year and this is ongoing.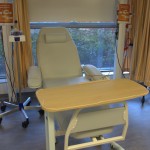 Coffee tables in St. Anne's Daycare Centre
As with  many improvements, this came as a patient suggestion and was enabled by donations. There were particular safety requirements that dictated the style of table to attach to infusion chairs. The result is more comfort for patients undergoing oncology treatments.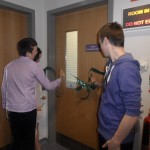 Medical Education.
Each year we are able to support staff in developing their capacity to care for patients by attending at courses or specialised conferences. Sometime this is from specific grants from sponsors and in many cases from patient and family supporters.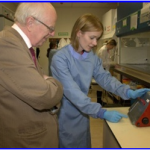 Patient and family room St Anne's Ward
We have previously referred to this development. By creating a relaxing and well equipped room for patients and their visitors, we were able to use donor money to transform the environment.
Laboratory equipment for E.R.C.
Donated money enabled purchase of vital equipment for the laboratories in the Education & Research Centre (E.R.C.) improving our research capabilities.
Masterclass on Compassionate Approaches to Healing
Supported by donors, St. Vincent's Foundation was able to contribute to a top-class panel of speakers for a Masterclass in November 2014 on developing this vital element in patient care.
In summary, these are just examples of the many enhancements to patient care, research and education that have been made possible by the generosity of those hundreds of people who have donated or raised money for St. Vincent's.
Since January 2014, we highlight, on our website under GRANTS, each project supported.