2022 "Friends of St. Vincent's" newsletter now available
08/12/2022
The 2022 edition of "Friends of St. Vincent's" newsletter is now available.  You can also view the magazine here on on our website under News & Events – Donor's Newsletter.
There are many exciting and uplifting stories of fundraising and donations and also the tangible impact that those gifts had on our capacity for patient care.
This is an opportune time to express our gratitude for your contribution to all this support. A big sincere Thank You.
We hope you enjoy the content and any feedback is welcome.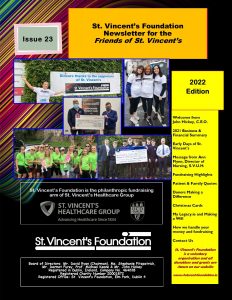 Return to News & Events