Annual fundraising by St. Michael's College
10/02/2022
Apart from the educational and sporting achievements of St. Michael's College, they have also placed a strong emphasis on imbuing their students with a high sense of social responsibility.  This is manifested every year in a huge fundraising for a variety of charities through the sale of Christmas trees.
St. Vincent's Foundation is fortunate to have been a beneficiary for many years now.
This year the management and students presented €2,500 to the Foundation to be directed to Pancreatic Cancer research in the hospital.
Over the years St. Michael's College have raised €24,000 for projects in St. Vincent's. The impact of these has been enormous for our patients and we deeply appreciate the continued support.
Pictured below are St. Michael's students, accompanied by Aidan O'Donnell, Deputy Principal, presenting the fundraising to John Hickey, St. Vincent's Foundation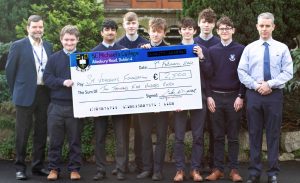 Return to News & Events