Sean Archbold Memorial Fundraising
06/05/2014
In memory of the late Sean Archbold who died earlier this year, his wife Teresa his daughter Amy and son Seanie organised a series of fundraising activities in support of St Anne's cancer care in St Vincent's Hospital. Combined with participation in this year's Women's Mini Marathon the family, and a huge group of supporters, raised a total of €9,043.35 for St Vincent's. They donated a further sum of €1,500 to the Blackrock Hospice who cared for Sean in his final days.
Raising over €10,500 in total reflected the enormous effort by all involved as well as the esteem in which Sean was held
Pictured are Amy, her mother Teresa and brother Sean presenting the fundraising proceeds to John Hickey.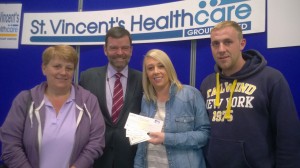 Return to News & Events