Christine Kearney's Easter Raffle for Breast Cancer
22/03/2016
For the last seven years, Christine Kearney and her friends Catherine and Katie have organised two raffles each year, for Breast Cancer in St. Vincent's.
Christine has completed her Easter Raffle 2016, with a magnificent display of prizes resulting in the raising of €3,025 for this critical medical area.
In total, Christine and her team have contributed almost €26,000 from these events.
Christine, Catherine & Katie always bring a wonderful sense of fun to their events and their efforts are really appreciated by our patients and visitors.
We are all indebted to them.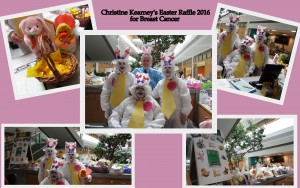 Return to News & Events