Christine Kearney's Halloween Raffle for Breast Cancer
07/10/2019
As Halloween is rapidly approaching we are delighted to announce that Christine Kearney is once again conducting her fundraising raffle in the hospital.  As usual, all proceeds will go to Breast Cancer care.
This year's draw takes place on Wednesday 23rd October at 3.00pm in the hospital (at main reception desk). 
Christine & friends will be selling tickets throughout that day at the main reception desk.  
In the meantime, tickets are available from the Main Reception Desk in the Hospital.
Tickets are €2 a line or 3 lines for €5
Christine has an enormous range of fantastic prizes for the raffle (on display at main reception desk)
Please support Christine's fundraising on behalf of St. Vincent's.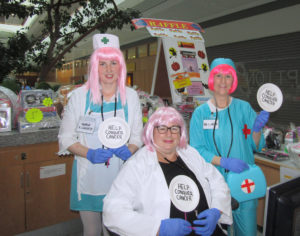 Return to News & Events