Christine Kearney's Halloween Raffle for Breast Cancer services in St. Vincent's
17/10/2017
Halloween in St. Vincent's would not be complete without Christine Kearney's annual raffle. Each year Christine and her friends present a marvelous seasonal image while raising money for a vital cause in the hospital.  This year's draw takes place on Wednesday 25th October at 3.30pm in the hospital (at main reception desk).
Christine & friends will be selling tickets throughout that Wednesday at the main reception desk.
In the meantime, tickets are also available from the Main Reception Desk in St. Vincent's.
IF YOU WOULD LIKE TO SUPPORT THIS RAFFLE ONLINE, PLEASE MAKE A DONATION SUPPORTING BREAST CANCER AND WE WILL PUT AN ENTRY IN THE RAFFLE FOR EACH €10 DONATED.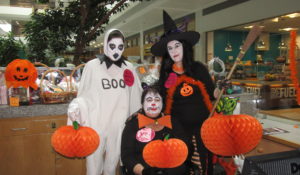 Return to News & Events