Christmas Raffle for Palliative Care
29/11/2016
Our Christmas Raffle takes place on Wednesday 21st December at 3.30pm at the Main Reception in St. Vincent's University Hospital.
This year the raffle is for Palliative Care. Tickets are €2 a line or 3 lines for €5.
(There is a free raffle entry with every pack of Christmas Cards purchased).
See details below of the record number of fabulous prizes (which are on display at main reception in SVUH).
We are grateful to all the prize donors.
Raffle Tickets are available as follows:
From the Administration Office, Education & Research Centre

From the Main Reception Desk in the hospital

By telephoning the Foundation on 01-2215065 
RAFFLE PRIZES
1st Prize:  L.G. 49" Smart T.V. (donated by Noonan)
2nd Prize: Dolls House with furniture (donated by Gloria Winterlich)
3rd Prize: Talbot Hotel Collection 2 Nights B&B Voucher (donated by The Talbot Hotel Stillorgan)
4th Prize:  2 Nights B&B and an Evening meal for Two (donated by Tara Towers Hotel)
5th Prize:  Philips Wireless mini Hi-fi System (donated by Noonan)
6th Prize: Voucher for Two Night stay in Harbour Mill Apts. Westport (donated by The Harbour Mill Westport)
7th Prize: Breville Food Processor (donated by Gowan Group)
8th Prize: Hamper (donated by Home Instead Senior Care)
9th Prize: Hamper (donated by TESCO, Merrion Shopping Centre)
10th Prize: Breville Food Processor (donated by Gowan Group)
11th Prize: Philips Power Steam Iron (donated by Goodbodys)
12th Prize: Bissel Vacumn Cleaner (donated by Goodbodys)
13th Prize: Dinner for Two at Bianconi's including a Bottle of Wine (donated by Bianconi's Bistro, Merrion Road)
14th Prize:  Dinner for Two at The Merrion Inn (donated by The Merrion Inn)
15th Prize:  Jewellery(donated by Remané Jewellers, Merrion Shopping Centre)
16th Prize: Baby Doll in Swinging Cradle (donated by Gloria Winterlich)
17th Prize: Car Safety Pack (donated by Johnson & Staunton Toyota, Greystones)
18th Prize: Handmade Church (donated by Gloria Winterlich)
19th Prize: Prize: Mantlepiece Candle Runner (donated by Gloria Winterlich)
20th Prize: Cosmetic Hamper (donated by Tony Walsh's Allcare Pharmacy, Merrion Shopping Centre)
21st Prize: Child's off-road car (anonymously donated)
22nd Prize: Car Safety Pack (donated by Johnson & Staunton Toyota, Greystones)
23rd Prize: Book Art – Carol Singer Doll (donated by Gloria Winterlich)
24th Prize: Hamper (donated by KSG)
25th Prize: Newbridge Silver Corkscrew & Winestopper set (anonymously donated)
26th Prize: Nine West Perfume set (anonymously donated)
27th Prize: Car Safety Pack (donated by Johnson & Staunton Toyota, Greystones)
28th Prize: Room Diffuser (donated by www.islandliving.ie Merrion)
29th Prize:  Carvery Lunch for Two (donated by Tara Towers Hotel)
30th Prize: Car Safety Pack (donated by Johnson & Staunton Toyota, Greystones)
31st Prize:  Carvery Lunch for Two (donated by Tara Towers Hotel)
32nd Prize: Man's shirt, tie, cufflinks and handkerchief set (anonymously donated)
33rd Prize: Table centrepiece (donated by Gloria Winterlich)
34th Prize: Christmas Cake (anonymously donated)
35th Prize: Basket of handmade Tree decorations (donated by Gloria Winterlich)
36th Prize: Large Box of Chocolates (anonymously donated)
37th Prize: Kiddies (Hello Kitty) Artist Pack (anonymously donated)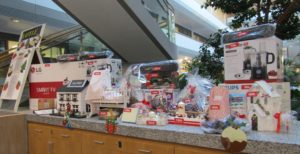 Return to News & Events