Eamonn & Mary Burke's Annual New Year's Day Swim for the Liver Unit
25/03/2015
A New Year's Day sponsored swim in Arklow has become an annual fundraising event for the Liver Unit in St. Vincent's and continues to go from strength to strength.
Eamonn & Mary Burke and their family have organised this for many years in good weather and bad and have raised nearly €30,000 in total for support of Liver patients.
This year the event contributed €3,942 for which we are most grateful.
Eamonn & Mary always emphasise the importance of local support for this great event including participants, donors, sponsors and those who ensure the safety of all. We want to express our appreciation also to all concerned.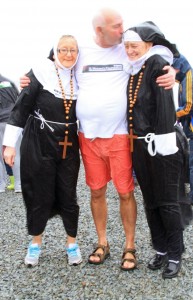 Return to News & Events