Fast and Marathon for Frontline Staff
11/05/2020
On Easter Sunday David Duggan undertook the dual ordeals of a 24 hour fast and a full marathon. He managed to do the latter keeping within the maximum 2km distance from his home.  
Through this valiant effort, David raised the magnificent sum of €6,100 which will be deployed supporting frontline staff in the three hospitals in St. Vincent's Healthcare Group.
In David's message below he expresses the objective perfectly:
 "We see the lights never go out and we wish to thank all staff and their families most sincerely for their heroic efforts at this difficult time.
I ran my first ever Marathon in the local area on Easter Saturday having fasted for 24 hours beforehand. Through a GoFundMe page, I received approximately 200 donations from family, neighbours, friends from my former school St. Michael's College and some of my work colleagues in PWC. Together they contributed €6,100"
Thank you David for supporting St. Vincent's.
Pictured is David on his marathon run.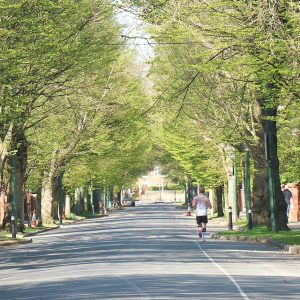 Return to News & Events