The Feeney Family Walking to St. Vincent's
12/08/2020
The Feeney Family from Killeshandra, County Cavan, together with extended family and friends committed to a most creative fundraising event.  They organised a walk of 141km, while conforming to the stipulated limits at the time under Covid-19. This is the distance from their home to St. Vincent's University Hospital; a journey they took every day for 5 months while their mother was being cared for in the hospital.
Far exceeding anybody's expectations, they raised €14,000 which will be an immense contribution to investing in Infectious Disease control.
On behalf of our patients we are hugely grateful to all involved in this fantastic support.
Our picture below shows Laura and her mam Una, presenting the cheque proceeds to Dr. Eoin Feeney, Consultant in Infectious Diseases (who we should stress is no relation)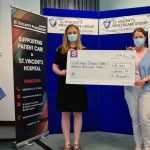 Return to News & Events