Fundraising event in Shankill for Liver Unit
13/08/2018
Thank you to liver transplant recipient Andy O'Shaughnessy, his wife Erica and friends Seamus & Noreen Lynam, who recently presented €3,120 to the Liver Unit here in St. Vincent's.
The donation resulted from a fundraising event held in Shankill on 23rd June 2018. As well as a fundraiser, the event was organised to promote the value of organ donation and carrying of an organ donor card; and most importantly the need for people to discuss and express their donation wishes to next of kin and family members.
We are really grateful for the wonderful contribution to our patient care.
Pictured presenting their proceeds to Mr. Diarmaid Houlihan & Alan O'Rourke, Liver Unit are Seamus & Noreen Lynam and Andy & Erica O'Shaughnessy.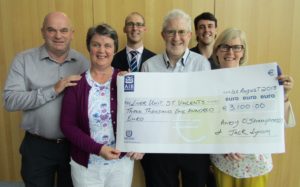 Return to News & Events