Fundraising in memory of Lorraine McBride
19/07/2023
Cahir McBride from County Donegal, having lost his beloved wife Lorraine, sought to fundraise to support the patient environment in St. Anne's ward.
From this fundraising, Cahir donated €5,000 which has enabled the completion of a project to provide reclining chairs in each of the patient rooms in St. Anne's.
This fundraising by Cahir and his family also benefitted a number of local charities in County Donegal and the Irish Cancer Society.
Cahir kindly came to St. Vincent's to present the proceeds and we are extremely grateful to him, and to his family and friends who supported this initiative.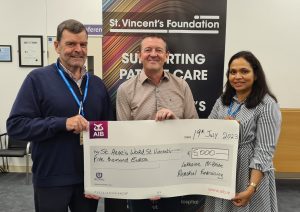 Pictured is Cahir McBride presenting the fundraising proceeds to John Hickey, St. Vincent's Foundation and Mini Moby, Cancer Directorate Nurse Manager, SVUH
Return to News & Events