Hazel Brack Cancer fundraising
10/11/2015
For several years now Hazel Brack has been an energetic supporter of Cancer care and research.
On Friday October 30th Hazel turned Dunne's Stores Cornelscourt, where she works, into a sea of pink. (see photos below) 
With the assistance of the store management and a myriad of friends and family, Hazel raised over €4,000 for this vital medical area.
Over five years of fundraising, Hazel has raised over €22,000 for cancer treatment and research.
We are truly indebted to her.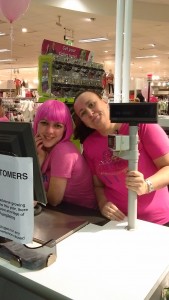 Return to News & Events