Hazel Brack – Pink Day – Breast Cancer fundraising
06/12/2016
Over many years, Hazel Brack has been one of the staunchest supporters in fundraising for Breast Cancer Care and Research in St. Vincent's and this continued in 2016.
On Friday October 28th last, Hazel organised throughout Dunne's Stores Cornelscourt, a magnificent demonstration of pink and raised the fantastic sum of €3,276.93.
The store management and staff, as well as Hazel's family were energetic in their support and we are truly grateful to them all.
To date, Hazel has raised in excess of €26,000 for this vital medical area.
Sincere thanks to all concerned.
Pictured below are Hazel (second on the left) together with her colleagues Linda and Gerry presenting the proceeds to John Hickey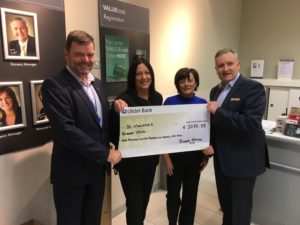 Return to News & Events