HSF supporting St. Vincent's
17/07/2017
St. Vincent's Foundation is delighted to be the beneficiary of a charitable grant of €2,700 from the Hospital Saturday Fund (HSF).
HSF has, for over 60 years, provided affordable healthcare plans in Ireland and the United Kingdom.
 We are very grateful to HSF for this terrific contribution to Palliative Care in St. Vincent's.
Picture shows Mia Shepherd (centre) presenting the HSF cheque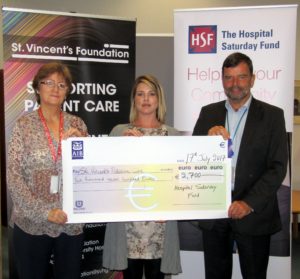 Return to News & Events