Improved Seating in C.F. area
14/10/2011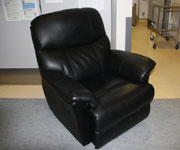 The family of the late Leon O'Neill from Carrick-on-Suir in Co. Tipperary wanted to improve the comfort for the families of C.F patients. They have raised funds to buy improved chairs for the area.
Parents and other family members often spend a lot of time in the hospital, sometimes trying to get some sleep during the night. The chairs available weren't comfortable to sit in for long periods and certainly not to sleep in.
The O'Neill family organised an energetic and creative series of fundraising events and the chairs were financed. Many families will have reason to be grateful to them.
Return to News & Events