Jason McHugh Dragon Sportive Cycle for the Liver Unit
25/09/2014
Jason McHugh from Athlone, Co. Westmeath recently took part in the Dragon Sportive Cycle series fundraising for the Liver Unit here in St. Vincent's. This was a gruelling cycle of more than 130km in the South East.
Jason's mother Bernadette had a successful Liver Transplant in St. Vincent's.
The family raised a magnificent total of €4,500 from sponsorship and fundraising from this event. This money will be used to purchase a special exercise bike and chairs for St. Brigid's Liver Ward.
On behalf of our patients we are deeply indebted to all associated with this fantastic fundraising initiative.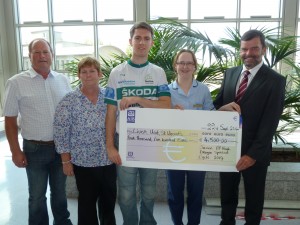 Pictured above are Tony, Bernadette & Jason McHugh presenting fundraising proceeds to Maire Ni Chinneide, Liver Unit & John Hickey, St. Vincent's Foundation
Return to News & Events