Jim Nolan Memorial Concert Carlow
31/03/2014
In memory of Jim Nolan, famed storyteller in Co Carlow, a group of his friends organised a fundraising concert in the Seven Oaks Hotel in Carlow, in November last. The proceeds were to be shared equally between The Alzheimer's Society and Cancer Care in St. Vincent's University Hospital. Jim died aged 90 on Good Friday 2012.
The concert was a great success with all artists giving their time free of charge and a magnificent total of €1,840 was raised, with €920 going to each of the beneficiaries.
Our sincere thanks to John Candy, Ollie Hennessy and Olivia Murphy-Smith who made this happen. This is the latest in a wonderful series of fundraisers by these tireless supporters.
 The photo shows the cheque for Cancer Care in St. Vincent's being accepted by Pat Nolan, Jim's son.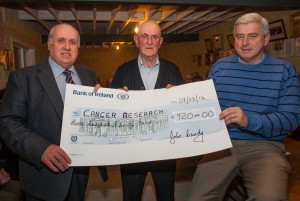 Return to News & Events