Kathleen Doherty's 2016 Dublin Marathon fundraising for St. Anne's Cancer Care
11/01/2017
A big thank you to Kathleen Doherty from Buncrana, County Donegal who took part in the 2016 Dublin Marathon, fundraising for St. Anne's/Oncology here in St. Vincent's.
 Kathleen raised the magnificent sum of €2,050, for which we are most grateful.
 On behalf of our patients, thanks to all who generously supported Kathleen's fundraising for St. Vincent's.
 Well done to Kathleen for completing this, her first marathon, in the great time of 4 hours 9 minutes.
 Pictured below are Kathleen and her husband Seamus presenting her sponsorship proceeds to John Hickey, St. Vincent's Foundation and Leo Ortiz, Clinical Nurse Manager, St. Anne's Unit. Also photos taken on the day of the Marathon.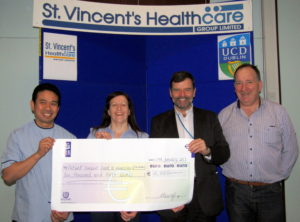 Return to News & Events