Kevin McCormack's 60th Birthday fundraising for the Liver Unit:
24/07/2017
On the recent occasion of his 60th birthday, Kevin McCormack, from County Laois and his family had a novel and generous plan to raise money for the Liver Unit in St. Vincent's. Guests at the birthday were requested not to bring gifts but to donate whatever they wanted in a collection bucket on the night.
Kevin also approached many businesses for additional support. Many other individuals, aware of the fundraising, also contributed.
A total of €3,735 was raised from all these efforts and Kevin & Una and their family came to St Vincent's to present the proceeds.
The list of donors is too long to acknowledge individually, but special thanks are due to Portarlington Credit Union and AIB Bank, Portlaoise.
Pictured are the McCormack family – Claire, Joe, Kevin Snr., Una, Kevin Jnr. & Sandra presenting proceeds to John Hickey.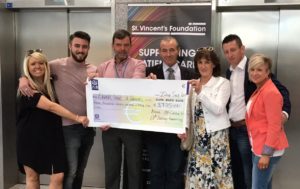 Return to News & Events