Killinick Harriers Fundraising for St. Anne's Oncology
02/02/2016
Inspired by Philip Hore and his family from County Wexford, Killinick Harriers held a series of events in December last for St. Anne's Oncology Day Care Ward in St. Vincent's.
Philip recently called in to present proceeds of €22,000 to St. Vincent's Foundation (see presentation photo below).
We would like to express our thanks to Philip and all involved in this massive fundraising for the hospital.
In addition to this wonderful contribution to St. Vincent's, this event raised almost €26,000 for the Cancer Clinical Research Trust.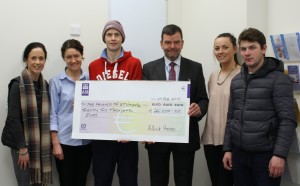 Return to News & Events