Lambay Christmas Lights appeal for Colorectal Cancer care in St. Vincent's
14/11/2023
Building on the enormous success of her event in 2022, Ciara Crangle has again organised a Christmas event running from 25th November to 31st December this year. This will include a Christmas display, Santa's grotto and tremendous lighting. All proceeds raised will go to Colorectal Cancer care here in St. Vincent's.
The attached photograph captures the spirit of this great festive celebration.
We wish Ciara every success in this endeavour and we are grateful on behalf of our patients.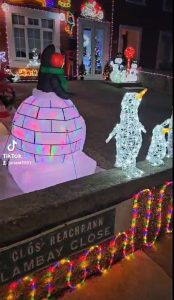 Return to News & Events