Lorna Purcell's Run Fifty Two for St. Vincent's Liver Unit
13/03/2015
In one of the most innovative fundraising initiatives, Lorna Purcell committed to running 52 races during 2014, to raise money for the Liver Unit in St. Vincent's.
She committed that each event would be a minimum of 5km and it included events up to 10 miles in distance.
With huge effort, Lorna, supported by many friends along the way, raised €3,000 for this great cause.
Pictured as she presents her cheque are Lorna and her Mum & Dad Therese & Michael, together with Orla and Stephen, both of whom participated with her, in many of these challenges.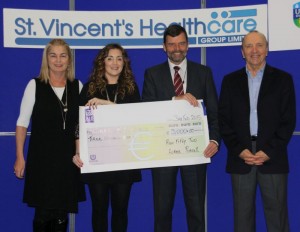 Return to News & Events