Louise Duggan & Friends fundraise for Breast Pumps
18/06/2018
Louise Duggan, a long-term supporter of St. Vincent's spotted an opportunity to make life better for new mothers who had to be in-patients in the hospital.  She identified the need for breast pumps for new mums and, with the help of family and friends, raised the fabulous sum of €1,240 towards the project.  Louse sets out the journey below.
"In early 2018, I found out that a fellow breastfeeding mother attended St. Vincent's University Hospital in Dublin for medical treatment. As this hospital is not a maternity/paediatric hospital, it did not have a breast pump on the premises.
I fortunately was not in this mothers position, who may have been worrying about her own medical issues and also be concerned about locating a breast pump to ensure her baby got fed and that she did not get mastitis.  Therefore, I set about fundraising for two hospital-grade breast pumps to be available to mums in St. Vincent's University Hospital in Dublin. 
I am delighted to say with the help and generosity of family, friends and fellow breast feeding mums as well as St. Vincent's Foundation, we have successfully achieved our target and that two hospital-grade Medela Symphony Breast Pumps and stands have been acquired and are in use in the hospital. They are stored in St. Helen's ward which is the Gynae ward in St. Vincent's for post-partum patients.  Well done and thank you to all for your contributions and support for breast feeding mums in St. Vincent's University Hospital."
A big thank you to all concerned for this great success.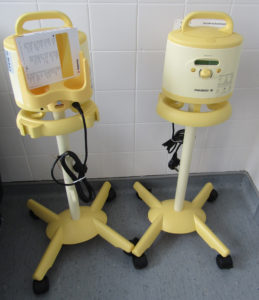 Return to News & Events