Noreen Armstrong Memorial Ladies Lunch & Fundraising for Breast Cancer Care & Research
14/11/2016
Shiona Murphy along with family and friends organised a fundraising Ladies Lunch on Saturday 22nd October 2016 at the Hampton Hotel, with all proceeds going to the important medical area of Breast Cancer. As well as fundraising, the event commemorated Shiona's mother, the late Noreen Armstrong.
The function room was most welcoming and wonderfully presented and it was obvious that everyone was having a great time.
During the afternoon and evening Shiona and her fellow organisers had arranged a fundraising raffle which added to the success and fun.
Vero Moda Fashion stores supported the fundraising with a collection, in 20 of their stores and boosted the contribution to this vital cause.
In total €10,034.43 was raised from all the activities. This magnificent result is huge credit to the efforts and professionalism of the fundraisers.
We are grateful to everyone who made this such a success but particular thanks are due to Shiona, Michelle, Theresa, Aoife, and Maeve.
Pictured below presenting the fundraising proceeds are Maeve, Shiona, Aoife with her daughter Sadie & Theresa. Missing on the day from the photo was Michelle.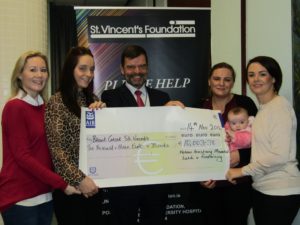 Return to News & Events