O'Neill Family 2,000kms for Pancreatic Cancer Research
11/02/2021
In the middle of the most challenging environment of Covid-19, the O'Neill family set themselves a challenge that would be daunting at the best of times; to walk/run 2,000 kms to raise money for Pancreatic Cancer Research in St. Vincent's. The fundraising was in memory of their beloved husband and father, Noel, who had died just four months previously.
15 family members from Kildare, Cork, Wexford & Sydney, collectively took part in the challenge while remaining within the Covid guidelines.
Amazingly they didn't just achieve their objective but surpassed it, completing a distance of nearly 2,700 kms; an outstanding feat.
In the process the family raised €10,300 for this vital medical area. It is an enormous contribution to our capacity for addressing Pancreatic Cancer and we are hugely grateful to everyone involved.
The picture below shows some of the family members on one of their long walks along the banks of the canal in Maynooth.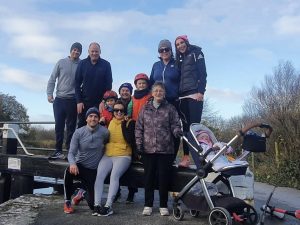 Return to News & Events