Opening of James Gill "Chill-out" room in St Anne's Ward
08/07/2014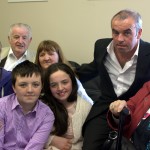 June 5th 2014 witnessed a very joyous but poignant event in St Anne's Ward in St Vincent's Hospital.
A relaxation room for patients and family with state-of-the-art equipment was opened in memory of James Gill who died in the hospital in May 2013 aged 20.
The room has a large-screen TV, and facility for internet and computer games together with a white-board in a relaxing setting. The design of the room reflects what James identified when he himself was a patient. Regrettably he did not see the project finished.
The refurbishment of the room was made possible by a donation of €30,000 from the James Gill Cancer Fund. The balance of the funds donated will provide TV's in St Anne's Day-care Centre in St Vincent's
During his illness James's family and friends raised €60,000 to assist in his treatment but he died before he had the treatment.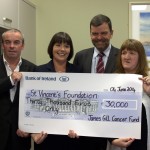 His family divided the money equally between St Vincent's and Tallaght hospitals as he had been a patient in both.
James's Mum and Dad, Geraldine and Declan, officially opened the room accompanied by his brothers, Stephen and Karl and his sister Holly along with his Granny and Granddad, Mary and Liam and many many friends.
Commenting on the opening Geraldine spoke about James's spirit and positive attitude during his illness.
His memory will live on through the legacy he has left in this room for countless patients who will benefit from it.
On behalf of our patients we thank the Gill family and their friends for their generosity.
Return to News & Events