Patient Communication System I.C.U.
22/06/2018
As the result of a patient donation for the Intensive Care Unit (I.C.U.) we were able to develop a unique solution for patients with loss of / or impaired speech.
The original objective was to provide a means of communication for seriously ill patients. The solution was a custom programmed ipad. The additional challenge was to have the functioning of the unit suitable for patients. This has now been achieved, as captured by the photo below.
An additional benefit for patients, comes from the availability of internet including Netflix, which means that patients have a means of entertaining themselves, while being confined to bed.
On behalf of our patients, we express our sincere gratitude to the donors.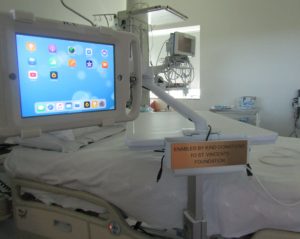 Return to News & Events