Peter & Josephine McLoughlin raise €10,000 for St Vincent's Foundation
05/10/2011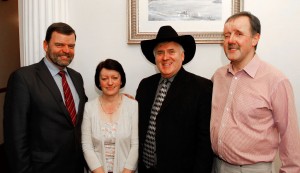 Peter & Josephine McLoughlin are two of the most successful fundraisers who support St. Vincent's.
Despite his health problems over many years and debilitating operations too numerous to mention Peter is constantly looking to help others. He has an amazing network of people throughout Ireland and overseas who are captivated by his energy, enthusiasm and generosity.
Peter & Josephine's latest venture was a major Country Music Extravaganza in Rooskey. They persuaded a tremendous line-up of artists to give their time and a wonderful event was enjoyed by a full house in the Shannon Key West Hotel.
After the function they presented a cheque for €10,000 for cancer care in St. Vincent's. This is truly a remarkable success by a remarkable couple. This brings Peter's total fundraising to over €100,000 for many causes. Little wonder that he is a Hall of Fame winner at the People of the Year Awards.
Return to News & Events