St Michael's College Support for St. Vincent's
18/02/2019
Over the years, the transition year students of St. Michael's College have been exemplary fundraisers for a number of charities, including St. Vincent's Foundation.
 Their generous contributions to St. Vincent's have enabled a number of projects, making a material difference to our patient care.  This year, they contributed €2,500 to the ongoing development of our robotic surgery capacity
In line with the presentation of the fundraising, the First Year students were given a video demonstration of the robotic system in action and were most insightful and engaging in their subsequent questions.
 Sincere thanks to all
 Pictured below are some of the First Year Students and Vice Principal Aidan O'Donnell presenting the fundraising proceeds to John Hickey, St. Vincent's Foundation.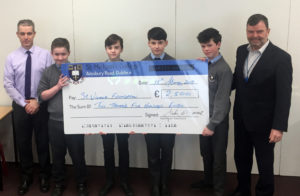 Return to News & Events