St. Vincent's Christmas Cards now available
20/11/2014
We have great value in Christmas Cards – this year our campaign is supporting Cancer Care in St. Vincent's Hospital.
Assorted packs of 10 cost €5 and each card highlights that it is supporting St Vincent's.
Because St. Vincent's Foundation is totally voluntary, all proceeds go to Cancer Care.
Please follow the link under "How to Help" on our website to see more or to order cards.
For every pack of cards purchased, you will also have a free entry in our Christmas Raffle with great prizes.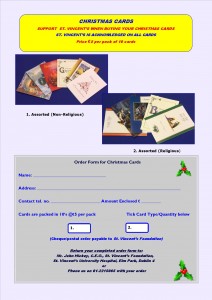 Return to News & Events