St. Vincent's Rugby Club Charity Ball 2016
01/02/2016
The St. Vincent's Hospital Rugby Club has had unprecedented success in recent years dominating the Hospitals Cup.
Off the pitch as well, the energy and generosity of the Club members has been spectacular. Each year they have organised a Spring Charity Ball to raise funds for causes within St. Vincent's Hospital.  
This year's Ball will be held on Saturday 20th February in the Shelbourne Hotel.
Tickets are available from the Secretary Tim Geraghty on 086-0869618 or email stvincentscharityball@gmail.com for details.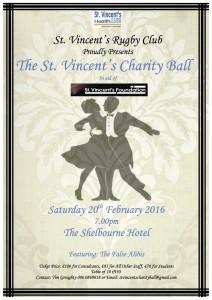 Return to News & Events