St. Vincent's Rugby Club's Charity Ball for Colorectal Disease care
05/09/2019
Every year the contemporary committee of St. Vincent's Rugby Club organises a Charity Ball to benefit particular causes in St. Vincent's Hospital.
The hardworking committee this year, under the guidance of Jeremy Dover, had a most successful event, raising €750 for the Centre for Colorectal Disease here in St. Vincent's.
Organising the Ball is a very challenging for this amazing group, who are simultaneously engaged in demanding medical studies and placements. We particularly appreciate their support on behalf of our patients.
Thanks again to all.
Pictured at the cheque presentation are Eoin Collins, John Hickey, Jeremy Dover & James Gibson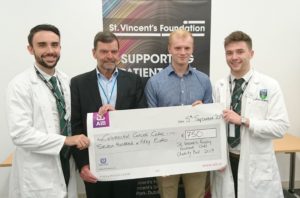 Return to News & Events