Tom Kennedy Annual Memorial Rally 2016
20/09/2016
The Garden of Ireland Vintage Car Club held the Tom Kennedy Annual Memorial Rally in July.
The rally commemorates Tom Kennedy, a member and great friend of the Car Club.
This year's event had a record number of vintage cars attending from across the British Isles.  As always, the rally supports fundraising for St. Anne's Cancer Care in St. Vincent's University Hospital and raised €2,000.  This brings to a total of almost €10,000 the contribution of the club to a vital area of medical care.
We are really grateful on behalf of our patients, for the wonderful ongoing support of the Club Committee and friends, and of course Tom's family.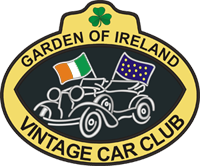 Return to News & Events