Tom Kennedy Annual Memorial Rally 2017 
17/10/2017
On a glorious day in July, The Garden of Ireland Vintage Car Club held it's annual Tom Kennedy Memorial Rally in Ashford, Co. Wicklow.
The rally, which supports fundraising for St. Anne's Cancer Care in St. Vincent's University Hospital raised €2,100.   This event has now raised almost €12,000.   
With a record attendance of cars, tractors and a most impressive Dog Show, the spectacle was wonderful.  As always there was a huge effort by the Committee in making this happen.
On behalf of our patients, we are really thankful to Tom's family and everyone involved in this over the years.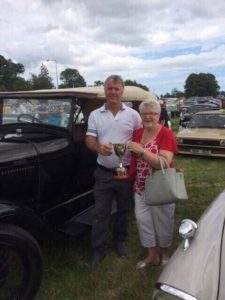 Angela Kennedy presenting the Tom Kennedy Memorial Cup for the Car of the Show 2017 to Noel Kavanagh for his 1927 Ford Model A at the Tom Kennedy Memorial Run 9th July 2017 in Ashford Co. Wicklow
Return to News & Events