Tom Kennedy Memorial Vintage Car Show 2019 for St. Anne's Cancer
22/10/2019
On July 14th, The Garden of Ireland Vintage Car Club again held its annual Tom Kennedy Memorial Vintage Car Show in Ashford, Co. Wicklow.
This year's event was held in Kilmacanogue G.A.A. Club which proved to be a tremendous location with great facilities for attendees.  As always, the show was extremely well organised and most enjoyable.
From a fundraising perspective, it was a record, raising €2,600 for St. Anne's Cancer Care here in St. Vincent's .
Since the commencement of this fundraising activity, the Garden of Ireland Vintage Car Club have raised almost €17,000 for this vital medical area. Once again, we thank them and the Kennedy Family for this magnificent support.
Pictured below are the representatives of the club presenting the proceeds to John Hickey.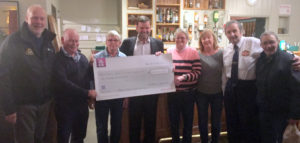 Return to News & Events