Transplant Party for the Liver Unit
18/12/2017
One of the most novel fundraising events took place in Birr, County Offaly on Friday 8th December.
 The Community Nursing Unit in Birr organised a fundraising "Transplant Party". Lead by Nuala Murray (pictured below with work colleagues), Cathy McCormack and Gillian Cooper, the party raised €2,500 which is a magnificent result.
 There was a big attendance on the night, having sold over 200 tickets. They held a fundraising raffle with donated prizes from the local community who enthusiastically supported the event.
 The group came up with this idea because a retiring colleague wanted to mark the occasion with a positive fundraising event and the Unit had direct experience of the benefits of liver transplant.      
 We would like to thank Cathy, Nuala & Gillian for organising the event. Special thanks to all who assisted, donated prizes and to Dooley's Hotel.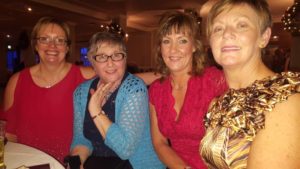 Return to News & Events