Virginia Credit Union Coffee Morning Fundraiser in Memory of Amanda Brady.
07/06/2022
Stephanie Bell, along with friends and colleagues in Virginia Credit Union in Co. Cavan, are organising a Coffee Morning to raise funds for a number of charities on Saturday, June 11th. 
The event is in memory of their great friend Amanda Brady who died in 2021. May she Rest in Peace.
We are grateful that St. Vincent's Foundation is included among the beneficiaries of this day.
We wish Stephanie and all involved, every success with our thanks.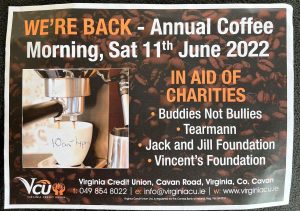 Return to News & Events