Run Mom Home – fundraiser for St. Anne's Cancer Care
16/01/2023
Following the death of his beloved mother, Marian, Damien Redmond from Stepaside has been hugely supportive and helpful in St. Vincent's. His first contribution was the creation of pouches for thew use of patients undergoing chemotherapy in the hospital. These have been universally popular.
In a further development, Damien is organising a 70km run in one day, on 15th April next. The run will be from the main door of St. Vincent's University Hospital to his mum's home in Arklow.
We couldn't hope to surpass Damien's own description of the motivation for this wonderful endeavour and his message is outlined below.  We are really grateful to Damien and the extended family for this magnificent venture.
"On the 15th of October 2022 our lives changed forever when after a four year battle with 3 different types of cancer our Mam was robbed from us. 
Our Mam was brave, strong, courageous and fought until her last breath to stay with us. No matter how hard the fight became, she never gave up. On her darkest days she always said "today I will be sad but tomorrow I'll go again". That's exactly what she did, she defied all the odds, put on a smile and laughed her way through cancer, surrounded by her family and friends.
Unfortunately the end came suddenly for our Mam and we weren't able to grant her wish to return home before she died. She passed peacefully in our arms in St Vincent's Hospital. She never got the opportunity to complete her bucket list or make it home so we want to do it for her.
On April 15th 2023 we are going to Run Mam Home. We intend to run from St Vincent's University Hospital Dublin to our Mams home in Arklow, a distance of 70km.
We are doing this to honour our mam's memory but also to earn much needed funds for patients & families on St Anne's Ward in St Vincent's Hospital.
We spent a large amount of time on St Anne's ward and we will be forever thankful to Dr. Claire Andrews, Dr. Karen Murphy, Dr. Katie Livingstone, Dr. Stuart Mac Cluer, Dr. Janice Walsh, Dr. Ruth Pritchard,  the nursing team of St. Anne's ward, Mairead, Emma, Amy, Remya, Samu, Aine, Norma, Eileen, Anne Marie, Leo, Adele, Naomi, Remya,  and St. Monica's, the catering team, dieticians and all involved in mums care over the last 4 years. Their kindness and support kept us going and they fought just as hard as our Mam to keep her with us.
We understand that times are hard for everyone right now but if you could spare any amount at all, it would really make a difference to families on their cancer journeys. Cancer is a fierce disease and we would love to do something to make life a little easier for other families going through it.
You can follow our journey on Facebook & Instagram @mightymarian. Thank you for your kindness & support."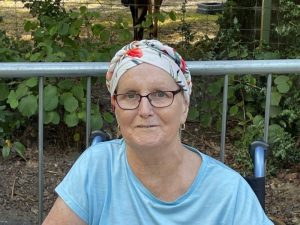 Return to News & Events