Variety Dance Mount Wolsey June 15th
27/05/2014
There is a great event happening in Mount Wolsey Hotel, Tullow, Co Carlow on Sunday, June 15th 2014.
A Variety Dance in memory of Emma O'Donoghue is raising money for the Cystic Fibrosis Unit in Sr Vincent's Hospital.
The event with a host of acts starts at 7 PM and promises to be a most enjoyable night while raising money for a great cause
Tickets, priced at €10 each are available from either John Lucas on 087-6259763 or Dessie O'Donoghue on 085-1793378.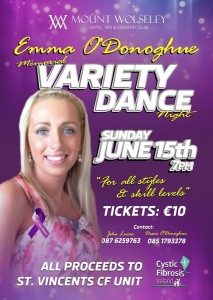 Return to News & Events